Attenzione: alcuni musei, gallerie e luoghi espositivi potrebbero essere temporaneamente chiusi al pubblico.
Enrico Castellani. Le Superfici e i Fondamenti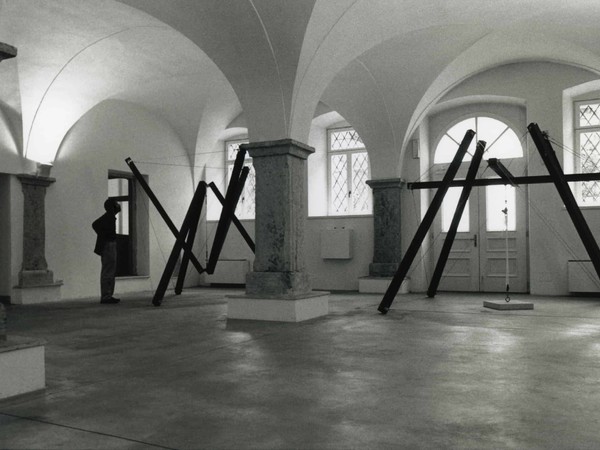 From 29 Ottobre 2021 to 31 Dicembre 2021
Place: Loom Gallery
Address: Via Lazzaretto 15
Times: Tuesday / Saturday 2-7pm or by appointment
Responsibles: Tommaso Trini
Telefono per informazioni: +39 02 87064323
E-Mail info: ask@loomgallery.com
Official site: http://www.loomgallery.com
Twenty years after the artist's last solo show in Milan, LOOM Gallery and Fondazione Enrico Castellani are pleased topresent "Enrico Castellani - Le Superfici e i Fondamenti", curated by Tommaso Trini.

The exhibition will feature a series of atypical and in some sense complementary works from different fields,helping to underscore how Castellani's entire practice developed within a context of experimentation that rangedfrom architecture and engineering to mathematics and physics.

Specifically, it includes two large white triangular canvases, their surfaces animated at the center by a double row of vertical points in relief, with an equal number of depressions in between. These pieces are echoed by twomassive wooden sculptures clearly inspired by ships, made from square beams stabilized by steel stays and rig-ging attached to small mooring posts. This body of works was made for the artist's solo show at Trento's GalleriaCivica in 1999, and they have not been presented together since.

Though these pieces belong to different and seemingly distant spheres—since the first two are reliefs and shapedcanvases, while the others clearly fall into the category of sculpture and installation—when presented in closedialogue with each other, in a way aptly chosen considering the possible reversal of parts, they show how Castel-lani's entire artistic investigation revolved around concretely establishing fields of opposing forces: like twosides of the same coin, they affirm and negate each other at the same time, until an indisputable balance isreached. The tension governing the surfaces in relief is not alien to the one underpinning the sculptures.

The latter clearly reveal the structural and engineering factors and the actual process that led to their formation; like the shaped canvases, they do not present themselves as images. Eluding ordinary definitions, they expand beyond these boundaries to interact with space in a very compelling way, shaping and structuring it to highlight the part leftempty, as integral to the work.

Not coincidentally, as Tommaso Trini writes in his essay on the exhibition: "Castellani's work does not revealitself; rather, it expands. If we have known since Heraclitus that 'Nature loves to hide,' and that even today cos-mologists must reckon with darkness, whether in energy or matter, we should update our languages to fit nature. Nor will an artist's ode to light be enough to help us see clearly. Oh uncommon light of art, illuminate the discretesteps of the waves and/or particles that flow between hollows and reliefs to flood your surfaces in beauty! Build-ing on specific iconic foundations, Castellani embraces the duality of surfaces and/or inner emptiness: a violinmasterfully played. These extro/intro/flexed bodies are tools of haptic observation, which seem to resonate at the touch of our eyes; frameless, they open up new fields of space and energy. The closed surfaces are indialogue with the open foundations, like steps on the moon. The surfaces radiate more light when animated byconcavities or wells that sensitize them: this was young Enrico's pivotal insight. His art thus expanded over every dark-object surface, as well as into sculpture, installation, events, and the conceptual realm, special tangents less explored until now."

This exhibition is organized in close collaboration with Fondazione Enrico Castellani. It is accompanied by an es- sayby Tommaso Trini, which examines for the first time the implications and unknown territories contemplated by Castellani's work: starting with the foundational principles on which his thought is based, to arrive at possibleconnections with other disciplines.

Enrico Castellani (1930 - 2017) graduated from architecture school in Brussels in 1956; returning to Italy in 1959, hefounded the Azimut/h gallery and magazine with Piero Manzoni. In that same year, he created his first reliefsurface, blazing one of the most significant paths of experimentation in the postwar period. Major exhibitions of his work have been presented most recently at Fondazione Prada, Milan in 2001, Cambridge University in 2002, thePushkin Museum, Moscow in 2005, Ca' Pesaro, Venice and Musée d'Art Moderne, Saint-Etienne in 2013.

SCARICA IL COMUNICATO IN PDF