Attenzione: alcuni musei, gallerie e luoghi espositivi potrebbero essere temporaneamente chiusi al pubblico.
Letizia Cariello. Calendario - Nous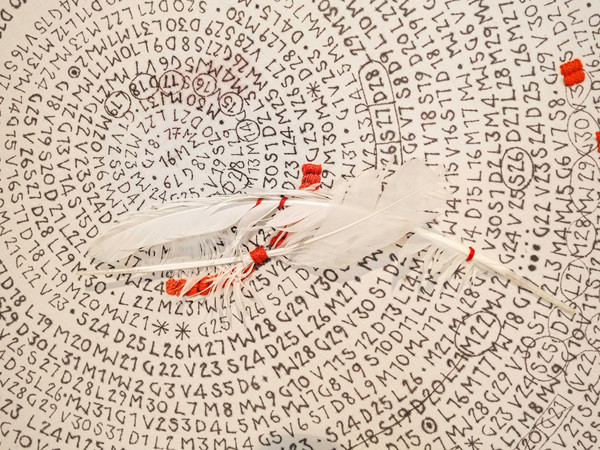 From 21 Gennaio 2022 to 23 Dicembre 2022
Place: BUILDINGBOX
Address: Via Monte di Pietà 23
Responsibles: Annette Hofmann
Official site: http://www.building-gallery.com
From January 21st to December 23rd, 2022, BUILDINGBOX presents its new exhibition program Calendario – Nous by the artist Letizia Cariello, curated by Annette Hofmann.
Following the previous programs investigating the themes of light (5779, curated by Nicola Trezzi, 2019) glass (From Sand, Artworks in Glass, curated by Jean Blanchaert, 2020) and gold (The Shape of Gold, curated by Melania Rossi, 2021) in contemporary art – with a series of installations featuring 12 artists in 12 months – BUILDINGBOX has reimagined its customary approach by inviting one artist to exhibit for the whole year, according to her own creative agenda, in via Monte di Pietà 23 in Milan, within a space on view 24 hours a day, 7 days a week.

BUILDINGBOX, an independent space devoted to experimentation, will thus be offering aspecial viewofLetiziaCariello'sartandelicitingtheengagementofthepublic:through BUILDINGBOX it will possible to observe the exhibition unfolding in time rather than space: an ongoing succession of site-specific installations which will follow the artist's own entirely independent, unpredictable creative schedule. The themes of time and boundaries are central in the work of Letizia Cariello, who has long worked with the practices of embroidery and weaving to give tangible shape to invisible connections, exploring the relationship between interior space and external world. Driven by a desire to intercept the material consistency of time, she seeks out and gathers its traces, translating them into visual form by writing of calendars and using red thread – one of her trademarks – to connect and piece together objects, matter and spaces. Her sewing unites different spheres, restoring lost bonds and healing wounds. From trees to teapots, cups to photographs, her thread crosses through objects and everyday spaces, creating a tangible manifestation of the passing of time.

In Letizia Cariello's research, her Calendars represent a form of meditation on time and its effective existence, an artistic exercise of writing and mental focus on the time to come, an attempt to lend tangible presence to its intangible nature, to give it a concrete form, or at least attempt to pursue it, bestowing it with a name and a date. With Calendario – Nous in BUILDINGBOX the artist explores the concept of Nous (νοῦς in ancient Greek) which has been used since Homer to indicate the inner faculty to comprehend events – the intellect - intended as a door or gateway to another dimension, which fall outside linear time and open up to a concept of time that is circular, spiritual. Nous thus presents itself as a doorway that invites viewers to metaphorically cross boundaries and comprehend the intertwining of the installations with space and time, becoming an integral part of the artworks and the connections they forge.

Calendario - Nous thus becomes an invitation to viewers to return through the year, so as not to miss the space changing in living time. In the words of Letizia Cariello, "BUILDINGBOX becomes flesh, a beating heart which pumps both day and night, thinning its own spatial and material boundaries, creating a Door to a new dimension, a space of connection". Like a living being, the exhibition project will grow and change through the year, adding elements and taking them away, following its own irregular, unpredictable life path. Letizia Cariello was born into a Neapolitan family known as sculptors for more than 200 years. Today she lives and works in Milan. She graduated in History of Art at the University of Milan and after working in the cinema industry in Italy and the United States, she took a degree in painting at the Academy of Fine Arts in Brera, Milan.
Her works – drawings, installations, video and sculpture – are currently on display in public and private collections around the world, including: the National Museum of Women in the Arts, the Washington DC Museum; the Mint Museum, Charlotte, NC; the collection of Tony and Heather Podesta, Washington DC; the Farnesina collection – Experimenta, Italian Foreign Office, Rome; Museion / Ar-Ge Kunst, Bolzano; the collection of Patrizia Sandretto Re Rebaudengo, Turin; the Etro collection, Venice; the Borromeo collection, Milan; the Rusconi Art Project collection, Agrate Conturbia, Collezione Bag – Uni L. Bocconi, the Trussardi Foundation and many others. She has had solo and group shows in leading museums, such as Triennale di Milano (2018), MART in Rovereto (2003 and 2001), and Kunstverein Ludvigsburg (2002). Other important solo shows include "Il tuo cielo è verde" at Filatoio Rosso di Caraglio (2021), and group exhibitions such as the eighth edition of BAG – Bocconi Art Gallery (2021).
SCARICA IL COMUNICATO IN PDF