Attenzione: alcuni musei, gallerie e luoghi espositivi potrebbero essere temporaneamente chiusi al pubblico.
Sportification. The Big Piano Smash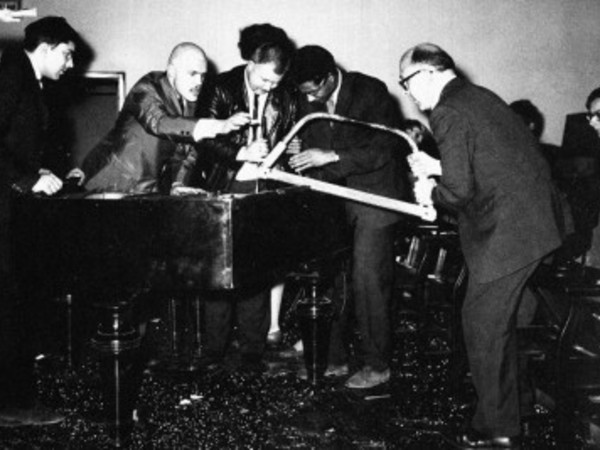 From 24 Ottobre 2017 to 21 Gennaio 2018
Place: GAM – Galleria Civica d'Arte Moderna e Contemporanea
Address: via Magenta 31
Times: Tuesday - Sunday 10am - 6pm The ticket office closes at 5pm. Closed Mondays
Ticket price: Adults € 10, Reduced rate € 8. Free admission on the first Tuesday of each month unless a public holiday
Telefono per informazioni: +39 011 4429518
Official site: http://www.gamtorino.it/

The VideotecaGAM's exhibition program dedicated to artist video history from the 1960s and 1970s continues by exploring the special relationship between the initial use of video by artists and coeval TV culture.
The Big Piano Smash is an exhibition that is part of the Sportification project devoted to some aspects of the history of the TV show Jeux sans Frontières broadcast in Eurovision from 1965 to 1999. A utopian form of sportification - that is, adding a sports component to an existing activity in order to make it more attractive and fun to its audiences—of a European identity waiting to be shaped, this show, preceded by some national examples like Campanile sera, developed in a European context seven years after the founding of the European Economic Community, in 1958, and accompanied the early years of the EU, born on November 1, 1993. Jeux sans Frontières embraced the ideal of a confederation of citizens, able to compare themselves, know, and relate to a transnational network of cities and countries, in a Europe made up of small sister communities, of a broader and more authentic social fabric of sociality typical of capitals and metropolises.
A vast selection of materials from various private archives highlights correlations both unexpected and recurrent among the different languages used in the broadcast and coeval avant-garde investigations. The show, born at a time when experiments in TV were still intense, spawned a conspicuous series of set designs, some of which have remained as public urban furniture in the cities that hosted the games, as for example Riccione in Italy. The analysis sheds light on intermingling influences that are heir to modernist architecture, on the one hand, and to Dada, Situationist, and Fluxus-inspired languages and games, on the other.
If the first decade in artist video history is undeniably and inextricably linked to the nascent TV culture and develops, at first, as a critical reaction to the entertainment industry proposed by various national broadcasters, it is surprising to note coincidences and affinities like The Big Piano Smash, where rival Jeux sans Frontieres teams must destroy a piano with clubs as quickly as possible, and the widespread anti-rhetoric of the piano the Fluxus movement expressed through artists such as Philip Corner, Nam June Paik, Ben Vautier, Wolf Vostell, George Maciunas and subsequently Beuys, Uecker, Montañez Ortiz, and others.
The exhibition unfolds in four micro-sections: Giochi senza Frontiere, Eurovisioni, Fluxus and Situazionismo, Playground in dialogue with the screening of The Big Piano Smash, a famous UK episode of the Jeux sans Frontieres held in Blackpool in 1967.
The event is made possible thanks to the collaboration of Philip Corner, one of the first people to destroy a piano in Fluxus happenings, Gunnar Schmidt, an art critic and historian and expert of Piano Activities, and Gianni Magrin, a collector and curator of a vast "assonant" image, memorabilia, and ephemera archive on the popular TV Jeux sans Frontieres.
The exhibition Sportification. The Big Piano Smash will be introduced by a conference, scheduled for October 24 at 6:30 pm in Sala 1 at GAM. In addition to the creators of Sportification, Philip Corner, Fluxus artist, will participate. For the event the book Sportification. Eurovisions Performativity and Playgrounds, 1965-99 (Viaindustriae publishing, Foligno / Colli publishing platform, Rome, 2017) will also be presented.
Sportification will be on view at the VideotecaGAM until January 21, 2018.
VideotecaGAM
An important and unique collection, which to date gathers over 2,500 video documents. Thanks to the support of the Fondazione CRT per l'Arte Moderna e Contemporanea, it continues to grow and engage the public through exhibitions, initiatives, and encounters. This collection is divided into Artist Videos (1,330 artist videos and films, from the 1960s to today, including experimental cinema from the early 1900s) and Art Documentaries (1,320 works including some of the most important examples in Italy of documentaries on artists and movements on the international art scene).
Free admission
* Caption: Piano Activities, Fluxus Internationale Festspiele Neuester Musik, Weisbaden, 1962. Image taken from the book Sportification, eurovisions, performativity and playground, 19665-99, Viaindustraie Publishing, 2017.

SCARICA IL COMUNICATO IN PDF