Ships Pavilion
Castello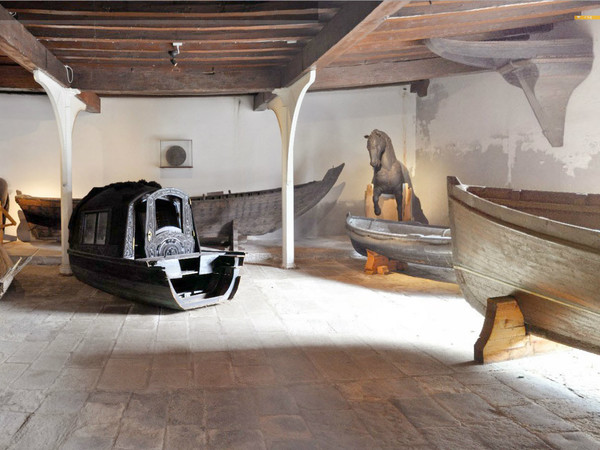 Location: Ships Pavilion
Address:

Riva San Biasio - Castello 2148

E-Ticketing WWW: http://www.veneziaunica.it/it/e-commerce/services
E-Mail: ticketing@velaspa.com
Phone#:

+39 041 2424

Booking E-Mail: ticketing@velaspa.com
Opening: Monday-Thursday from 8:45am to 1pm
Friday from 8:45am to 5pm
Saturday and Sunday from 10am to 5pm

We inform visitors that from October 12 to 24, 2015, the Ships Pavilion will be closed to the public due to the institutional event "Simposio fra le marine dei Paesi del Mediterraneo e del Mar Nero".

Price:

Full rate € 5, reduced rate € 3,50

Transportation:

Lines: 1, 4.1, 4.2 (stop Arsenale)
The building, now housing a detached section of the Venice Naval Historical Museum collection of historic ships, consists of four arranged units. The building was built in the mid-sixteenth Century as an oars workshop and storage facility. Shortly after its completion in 1577, it was temporarily adapted to house the Great Council, the main government body of the city, following the disastrous fire that had destroyed much of the Palazzo Ducale, making it useless for a long time. The rooms basically retained their function of specialized workshop for the production of oars, supported by a blacksmith workshop and storage spaces, until the mid-nineteenth Century. 
Following the reorganization of the Arsenal started after 1866, when Venice was annexed to the Kingdom of Italy, the premises were used as storehouses and workshops by the Military Engineers. 
Since 1980, the area of the oars workshops has been known by the name of "Ships Pavilion". It houses vessels of great historical importance as an annex of the Naval Historical Museum.