Attenzione: alcuni musei, gallerie e luoghi espositivi potrebbero essere temporaneamente chiusi al pubblico.
Alexandre Diop. La Symphonie du Ghetto: Volume One Natural Born Killer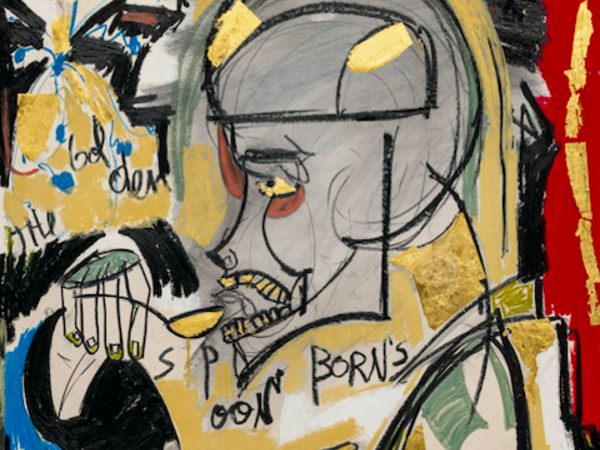 From 08 Giugno 2022 to 19 Settembre 2022
Place: Galleria Poggiali
Address: Foro Bonaparte 52
Times: Tuesday to Saturday 11am-07pm
Telefono per informazioni: +39 02 72095815
E-Mail info: info@galleriapoggiali.com
Official site: http://www.galleriapoggiali.com
A heterogeneous symphony telling the story of various people, both mythical and real, in search of redemption. This is a narration deeply tied up with the life story of Alexandre Diop (1995, Paris), born to a French mother and Senegalese father and raised in the banlieue of Paris, who from 8 Juneto 19 September 2022 is staging La Symphonie du Ghetto: Volume One. Natural Born Killer, his first show in Italy, in the premises of the Galleria Poggiali in Milan.

Alexandre Diop's artistic practice veers between painting and sculpture, concentrating on the physical presence of materials – such as wood, metal, fabric, latex, tar, canvas, natural fibres, straw, beads, pastels, leather, nails and screws – that are assembled and amalgamated in his collages. Fragments of materials already produced and discarded are stratified on the canvas along with paint, creating an environment in which to explore the transformative power of everyday objects so as to deconstruct the narrative structure of traditional representation.
Diop works on autobiographical shreds that return constantly in his creations in the form of phrases and, frequently, self-portraits, exploiting his art as a means of explaining what he feels to the other.

La Symphonie du Ghetto: Volume One. Natural Born Killer is the first volume of Alexandre Diop's personal story of the ghetto, a project that the artist has been working on for some time. The series of works on show in Milan, Natural Born Killer, consists of eleven works on paper that represent a species of stream of consciousness in which he retraces the questions that disturb him most and, at the same time, stimulate his research. His works are responses to the social context he lives in, frequently due to his condition as an artist of African descent and his experience of growing up in the banlieue of Paris, who moved first to Berlin and then to Vienna. He still lives and works in Vienna, a city that made a profound impression on him, the home of Gustav Klimt who became a fundamental influence on his research.

The work that opens the series shows a pregnant woman as a sort of symbolic icon of life and maternity in which the artist – partially at least – transfigures himself, reflecting on the meaning of having a son or a daughter in the society of today that demands constant compromises. Every living being has to aspire to freedom and shun repression, regardless of the minority of belonging. It is also a reflection on what it means to be born, or not, with privileges that others will never be able to enjoy because they are born in a different context.
The following works feature a succession of historic figures, for instance Lucy – the oldest primate ever discovered, considered by the black community as a symbol of how human life originated in Africa – interspersed by portraits of figures from the ghetto, a sort of tribute that the artist dedicates to these people to remind us how every day they have to face a life of misery and danger.
The series ends with a group portrait of Le Mouton Noir, an artistic collective founded by AlexandreDiop together with other artists that is spread over various European cities and aims to support original projects in public spaces.

The show will be accompanied by a critical text by Hans Ulrich Obrist.

SCARICA IL COMUNICATO IN PDF