Peggy Guggenheim Collection
Dorsoduro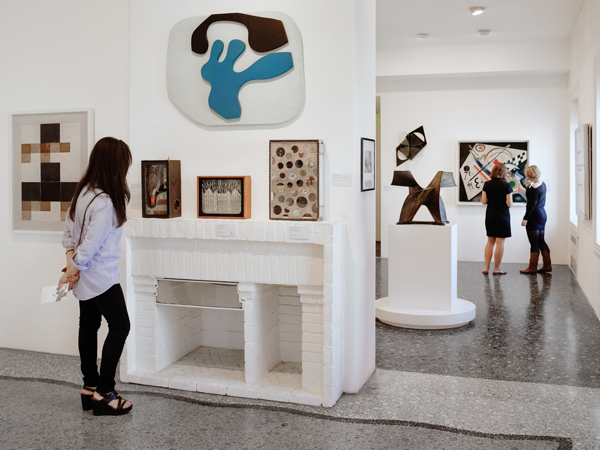 vv


The Peggy Guggenheim Collection is a museum of modern art created by the American heiress Peggy Guggenheim (1898-1979).
In 1948 the collection was exhibited at the first post-war Venice Biennale. The following year Peggy acquired Palazzo Venier dei Leoni, a 18th century palace on the Grand Canal of Venice designed by Lorenzo Boschetti and unfinished, where she was to live for thirty years.
Since 1980, Palazzo Venier hosts the museum where can be admired the works of the great masters of the twentieth century such as Picasso, Magritte, Dali, Chagall, Pollock, Calder. The collection was assembled with the advice of distinguished artists and critics, such as Marcel Duchamp, Herbert Read, Nellie van Doesburg and Howard Putzel.
The museum exhibits twenty six masterpieces on long-term loan from the Gianni Mattioli Collection, including famous works of Italian Futurism artists, such as Boccioni, Carrà, Russolo, Balla, Severini, Sironi, Soffici, Rosai, Depero. 
The Patsy R. and Raymond D. Nasher Sculpture Garden at the Peggy Guggenheim Collection presents works from the permanent collection (by Arp, Duchamp-Villon, Ernst, Giacometti, Holzer, Minguzzi, Mirko, Merz, Moore, Ono, Richier and others), as well as sculptures on temporary loan from other foundations and galleries (by Calder, Marini, Smith, Kapoor, and  Nannucci).
From October 2012 eighty works of Italian, European and American art of the decades after 1945 are added to the collections of the Solomon R. Guggenheim Foundation in Venice. They are the bequest of Hannelore B. Schulhof, who collected the works with her late husband Rudolph B. Schulhof. 
With works of Afro, Burri, Capogrossi, de Kooning, Dubuffet, Rothko, Oldenburg, Stella, Twombly, Warhol, Kapoor, the Hannelore B. Collection and Rudolph B. Schulhof has enriched the permament collection of the American patron, bringing it to lap the boundaries of the artistic production of the '70s and '80s of the Twentieth century.