Attenzione: alcuni musei, gallerie e luoghi espositivi potrebbero essere temporaneamente chiusi al pubblico.
Basilica of Aquileia
Guida Aquileia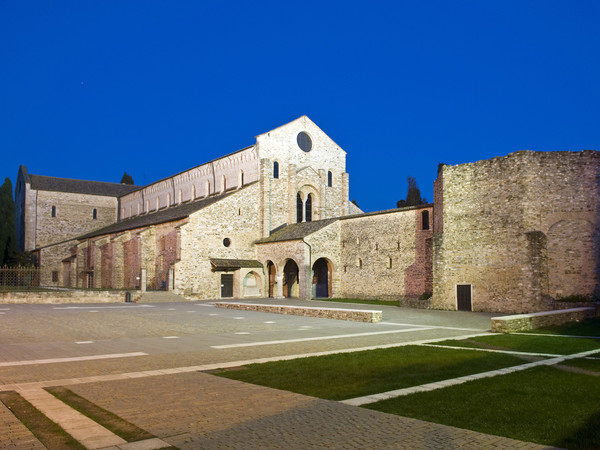 Location: Basilica of Aquileia
Address:

Piazza Capitolo 1

E-Mail: basilica.aquileia@virgilio.it
Phone#:

+ 39 0431 919719

Opening: From April to September: 9am-7pm
March and October: 9am-6pm
From November to February: 10am-4pm (Saturday, Sunday and holidays from 9am to 5pm)

Closures:
December 25 afternoon
January 6: from 2:15pm to about 3pm for the Blessing of Children
All Saturdays: from 5:30pm to 6:45pm for the Vigil Mass
Every Sunday: from 10am to 11:30am
During all religious ceremonies parish not definable schedule (funerals, weddings or special ceremonies) closed 30 minutes before the ceremony
The Basilica of Aquileia amazes for its extraordinary architecture. In its essential lines, it re-proposes the architectural structure desired by Patriarch Poppone (1019-1042), that is, the Bishop of Aquileia, who consecrated it in 1031.

Its origins date back at least to the end of the 4th century, when, at the time of Bishop Chromatius, the basilica building had assumed dimensions similar to the current one, except for the transept (the architectural body that intersects perpendicularly at the height of the presbytery central nave) and the apse with an underlying compartment.

The beginning of the 9th century marks a significant construction phase. Patriarch Maxentius added the connecting portico with the Pagan church, the two protruding structures of the transept and the apse.

In the 11th century, Patriarch Poppone initiated a major renovation that included the reconstruction of the facade, with the central window divided vertically into two openings (mullioned window), and of the apse, with the splendid cycle of frescoes.

The internal colonnades, which included ten columns each, were equipped with new capitals. Further interventions were undertaken after the 1348 earthquake.

 In 1909, the floor of the phase dating back to Poppone was removed up to the height of the presbytery (the space reserved for the bishop and the clergy, at the end of the central nave). An expedient that made it possible to highlight the underlying mosaic floor of the Constantinian complex, located about a meter below.