Attenzione: alcuni musei, gallerie e luoghi espositivi potrebbero essere temporaneamente chiusi al pubblico.
The Rape of the Sabine Women
Vaticano, Prati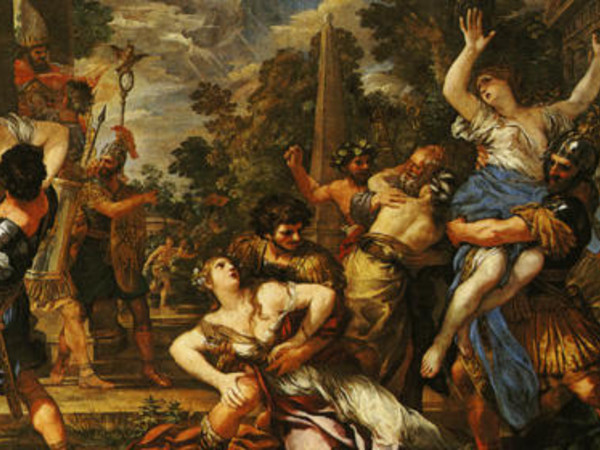 The Sacchetti family commissioned this painting in the 1620s when Pietro da Cortona was just making his name in Roman circles. They thus became his first patrons and introduced him to the world of aristocratic commissions. During the first two decades of the century, Caravaggio's naturalistic style had been rivaled by the Carracci cousins' academic style of classicism. Each school had its own followers and some attempts had been made to bring the two together. The arrival of Pietro da Cortona, at the same time as Bernini erupted onto the scene as the preferred sculptor and architect of the Barberini pope Urban VIII, were together sufficient to transform art in Rome and to create a true Baroque style.

Pietro da Cortona's painting stands out for its open theatricality, lively gestures, richness of colour, and brushwork, as well as its diffused light. The Sabine women being lifted into the air deliberately derive from Bernini's works, such as Apollo and Daphne, as if to underline the bond between the two artists. There is little real violence in his treatment of this scene from Roman legend, merely a splendidly theatrical display of half-clothed bodies.