Attenzione: a causa dell'emergenza sanitaria alcuni musei, luoghi d'arte, mostre ed eventi culturali in Italia resteranno chiusi o sospesi sino a data da definirsi.
PostmastersROMA supports Spallanzani Hospital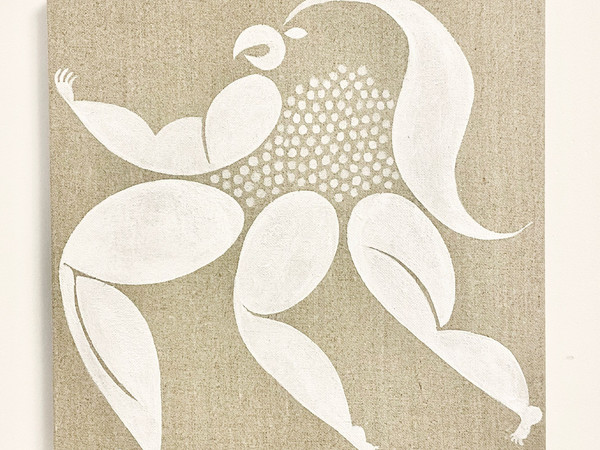 Dal 22 Aprile 2020 al 30 Maggio 2020
Luogo: Sito web Artsy / Profilo Instagram PostmastersROMA
Indirizzo: online
Curatori: Paulina Bebecka, Valentino Catricalà
E-Mail info: roma@postmastersart.com
Sito ufficiale: http://www.artsy.net/show/postmasters-gallery-postmastersroma-supports-spallanzani-hospital-benefit-sale
Locked down in Rome, in the middle of the pandemic, I felt helpless. Furthering the injury, the solo exhibition of Giovanni Garcia-Fenech is now frozen in the temporarily closed gallery. In the spirit of continuance and an attempt to secure a thin veil of normalcy I searched for ways to help. I asked Giovanni if we could do something together for the Spallanzani Hospital, which is one of the three hospitals in Italy dedicated to the research on infectious diseases. Giovanni came back with a brand new painting of an Amabie — a three-legged, long-haired, mermaid-like mythical yokai — believed in Japanese folklore to fight epidemics. I knew many artists would want to join the fight against coronavirus whist luckily tucked away in our homes and studios, creating their own version of the particular yokai. This is how the Amabié series was born. 37 artists from all over the world have created their interpretations of the protective creature.
The first appearance of the Amabié dates back to 1846. It is believed that the act of drawing and sharing an image of the Amabié combats an epidemic. The image itself can be used as a protective charm against sickness.
Intrigued by the myth of the folk spirit, the Roman curator Valentino Catricalà joined me and Eugenia Carabba Tettamanti at PostmastersROMA to coorganize initiative. Catricalà imagines that "the Amabié reflects the deepest parts of ourselves, draws out power from the bowels of our souls, and similarly to a virus, it inflames the imagination. If a virus is a submicroscopic infectious agent that replicates inside living cells of an organism, the Amabié replicates in our symbolic cells of consciousness, and gives us a way to reflect on our newly found condition."
Although the Amabie series will not save lives directly, the spirit will protect us and the proceeds from the benefit sale will help the fight against the pandemic.
- Paulina Bebecka, director
To acquire contact
roma
@p
ostmastersart.com
or purchase directly on
ARTSY
SCARICA IL COMUNICATO IN PDF