Precious. From Picasso to Jeff Koons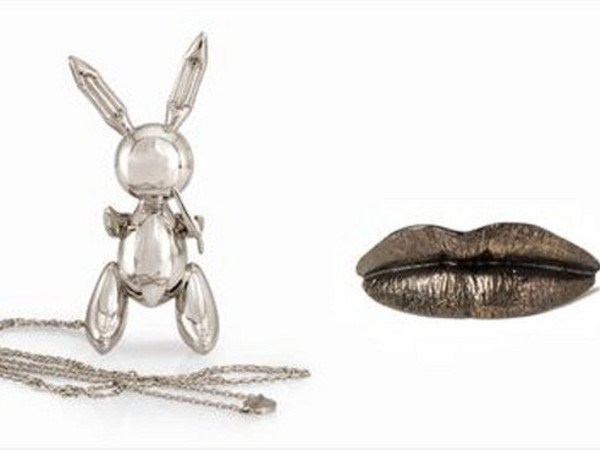 From 07 Febbraio 2015 to 16 Agosto 2015
Place: Vitraria Glass +A Museum - Palazzo Nani Mocenigo
Address: Dorsoduro 960
Responsibles: Diane Venet, Ewald Stastny
Telefono per informazioni: +39 041 0988122
E-Mail info: museum@VITRARIA.com
Official site: http://explore.vitraria.com
Comunicato Stampa:
From Pablo Picasso to Jeff Koons, from Louise Bourgeois to Damien Hirst, from Lucio Fontana to Anish Kapoor. They are just a few of the more than one hundred names of modern and contemporary art gathered together to unveil his own face less known: that of artists of jewelry, whose creations have the valence of amazing works of art are often unknown to the general public.
After stopping in Roubaix, New York, Athens, Valencia, Miami and Seoul, the incredible collection gathered over the years by Diane Venet, Parisian collector of origin and New Yorker by adoption wife of renowned artist Bernar Venet, arrives for the first time in Italy with Precious - from Picasso to Koons.
One hundred and fifty jewels, the collection to complete, with some of the works have never been exhibited before, which tell a different approach to art from what we usually observe and transform the main floor of the iconic, brand new A + VITRARIA Glass Museum.
VITRARIA Glass + A Museum is a new museum that opened its doors in September 2014 in the heart of Venice, located at the beginning of the "museum mile" between the Academy and the Zattere.
VITRARIA + A Glass Museum has an interdisciplinary approach where "Glass" expresses
the thematic objective that focuses on the glass through the contamination of this element with art, design, architecture, new technologies, fashion ... and "A +" states the aspiration of the Museum to expand its looking very well, affording an area of freedom and exhibition presenting itself as a platform to meet and exchange for artists, designers, creative industry.
Precious therefore falls right in calling "A +" by VITRARIA, which already expresses this with his second show their freedom to explore the '' Other ', investigating, in this case, another applied art such as jewelery - so similar glass art.
Jewels that are works of art in all respects, because by the greatest contemporary artists, often unique pieces, sometimes very limited editions that remain in distinctive unequivocal and attributable to the signature style of each "teacher". Precious we will discover a new point of view the location of many of the most famous artists in the world since the second half of the twentieth century to the present.
Each jewel, conceived as a work of wearable art, contains a story and was created by the artist with a particular person in mind: perhaps this aspect of "intimate" to make it even more fascinating.
The double meaning of this exhibition starts right from its title: Precious not only because it refers to very rare and precious art objects, but also to works that hold a strong symbolic content and personal, often the source of creation. Just think of the pebbles gathered on the beach and then painted by Picasso for Dora Maar, or pieces of bone on which the engraved portrait of Marie-Thérèse.
Diane Venet says that her collection was born on the day that her husband, the French artist Bernar Venet, squeezed her left ring around a thin stick of silver as a wedding ring, which was followed by pins and bracelets, each one corresponding to a new concept in his artistic activity.
The collection has grown over time, rallying friends and artists such as César, which squeezed bracelets and pendants family Venet to give it new life, or Chamberlain, who gave Diane her very first jewel, a brooch and crumpled aluminum painted . Sometimes artists have refused the request, to engage in the challenge at a later time, as in the case of Frank Stella, tempted from experiencing their own language on a different scale and with different constraints.
Many jewelry came after investigations, meetings, trips taken to track down rare pieces. All are the result of an interplay between life stories and art history.
SCARICA IL COMUNICATO IN PDF