Saint Mark's Square
San Marco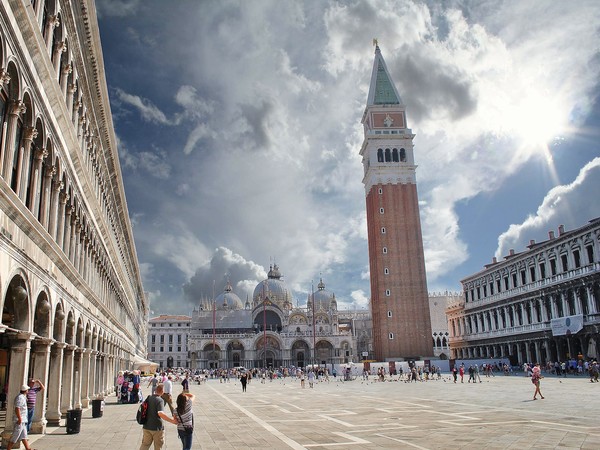 Location: Saint Mark's Square
Address:

Piazza San Marco

Transportation: Lines 1, 2, N (stop S. Marco Vallaresso)
Lines 2, 10, A, B (stop S. Marco Giardinetti)
Lines 1, 2, 7, 14, 15, 19, 20, 4.1, 4.2, 5.1, 5.2, B, N (stop S. Marco S. Zaccaria)
Services:

It is the only piazza (square) of the city, all other urban spaces are called fields (campi). It is one of the most famous squares worldwide, blending the city with the sea and the sky.
It has always been the real and symbolic focal point of the city's power of which it sets the perimeter: the Church and the Doge's Palace on the East, the Procuratie Vecchie, residences for the powerful Procurators of Saint Mark, extending for 152 metres from the Clock Tower, on the North.
The Napoleonic Wing - Ala Napoleonica (built around 1810) - the current seat of Museo Correr, was the last building to be built in the square, then the Procuratie Nuove built by Vincenzo Scamozzi and, finally, the masterful block designed by Sansovino with the Loggetta and the Biblioteca Marciana (Library) which link it to Piazzetta San Marco overlooking the sea and San Giorgio Maggiore.