Attenzione: alcuni musei, gallerie e luoghi espositivi potrebbero essere temporaneamente chiusi al pubblico.
Unfinished Conversations on the Weight of Absence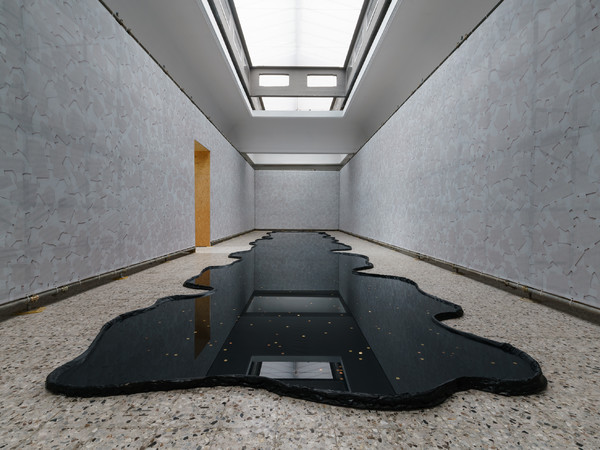 Dal 11 Maggio 2019 al 24 Novembre 2019
Luogo: Romanian Pavilion
Indirizzo: Giardini Biennale
Curatori: Cristian Nae

The Exhibition Tackles the Politics of Representation, Cultural Displacement, the Anxiety of Non-belonging, as well as the Notion of Direct Democracy

Unfinished Conversations on the Weight of Absenceis opening on May 9, 2019, 5:30 PM, at the Romanian Pavilion in Giardini della Biennale. The Romanian participation at the 58th International Art Exhibition of La Biennale di Venezia will span over two venues: the national pavilion and the New Gallery of the Romanian Institute for Culture and Humanistic Research, Campo Santa Fosca, Palazzo Correr, Cannaregio 2214. The exhibition at the New Gallery is opening on May 10, at 6:00 PM. The exhibition is curated by Cristian Nae, with commissioner Attila Kim, and features the works of Romanian artists Belu-Simion Făinaru, Dan Mihălțianu and Miklós Onucsán and will be on display from May 11 to November 24, 2019.

"The exhibition features contemporary versions of significant post-conceptualart projects realised by artists whose trajectories, spanning more than forty years, expand the geography of contemporary art constructed according to national categories. Including the Romanian diaspora, it concomitantly exposes the cultural mobility of these artworks across space and time. Adapted to the scale of the Romania Pavilion and critically recalibrated as a poetical response to the growing political appeal of neoliberalism, nationalism and populism, these counter-monumental art installations propose a conjunction of heterotopic spaces which suspend, displace or disperse the notion of locality, while at the same time rejecting the understanding of the artistic object as a fixed art historical entity. The selected pieces disruptively approach the notion of national representation by revealing multiple absences fissuring its core. In conjunction with their ability to constantly interrogate the site they are installed in, they address issues still relevant today, such as cultural displacement and the anxiety of non-belonging, capital liquidity and the troubles of representative democracy, or the politics of representation, and propose an alternative <>", says curator Cristian Nae.

The exhibition in the Romania Pavilion displays versions of previous artworks, which either acquire a different meaning or change their formal structure, and thus, become new and topical art pieces.

Curator Cristian Nae says: "The domestic interior suggested byBelu-SimionFăinaru in his installation Belongs Nowhere and to Another Time, which draws upon elements of Jewish culture, appears as a memorial for a living and personally experienced cultural memory, while simultaneously raising the question of its translatability. In this in-between, un-localizable space,the thematization of displacement and nomadism, the rejection of stereotypes by embracing transience, and the introduction of an imprecise temporal dimension, which combines the scale of individual experience with the one of collective history, situates the visitor in the abstract space of a non-specific and transnational culture.

In a different direction, Canal Grande: The Capital Pool and the Associated Public, conceived by Dan Mihălțianu based on his Canal Grande series of art installations, assumes the failure of representative democracy and proposes aesthetic and political formulas for exercising direct democracy at the level of artistic practice for the duration of the exhibition. Functioning as a concrete social and economic process, it establishes an autonomous financial fund and it engages the contemporary public in the continuous remodelling of the artwork and its potential effects, inviting the visitors to self-organize and decide on the utilisation of the autonomous capital raised during the exhibition for social or humanitarian projects.

Last, but not least, operating at the threshold of the visible, Miklós Onucsán's artwork entitled The Restoration of the White Camouflage proposes an invitation to mentally reconstruct an absent artwork that temporarily suspends the physical space of the gallery, situating it in a conceptual <>; it is, at the same time, an ironic reflection on the symbolic pressure that any image undergoes in the context of the Venice Biennale, and, on a different level, on the capacity of artistic practice to generate strategies of art historical self-historicization and self-mythologizing", concludes Nae.

All these installations have their own extensions on display at the New Gallery of the Romanian Institute for Culture and Humanistic Research in Venice. Miklós Onucsán presents a new work entitled Camouflaging Guide, while Belu-Simion Fainaru's installation Belongs Nowhere and to Another Time and Dan Mihălțianu's Canal Grande: The Capital Pool and the Associated Public are accompanied by additional elements displayed in this space. A series of performative events realized by Dan Mihălțianu, entitled Discapital, are hosted at the New Gallery. Additional information about the history, more recent or not, of these artworks will be available to the visitors at these venues.

Belu-Simion Făinaru's conceptual artistic approach revolves around themes of absence, loss and the need to rebuild links in communities. The experiences of exile and that of cultural displacement, as well as the shock of separation and adaptation to a new place play an important part in the biography of the artist, who was born in Bucharest, where he lived under socialism, immigrated to Israel in 1973, and afterwards studied art in the USA.Working with art installations, photography and objects, the artist often uses familiar, discrete items and imagery that are re-contextualized and transformed to create uncanny associations. His series of artworks create long-term connected projects which displace the immediate reality into a more philosophical, sometimes even mystical experience of it, connecting to his Israeli-Romanian roots and the nowadays pressing sociopolitical issues of conflict and migration.

Belu-Simion Făinaru was born in Bucharest, Romania in 1959 and immigrated to Israel in 1973. He now lives in Haifa, Israel and Antwerp, Belgium. Belu-Simion Făinaru's works were exhibited at the 1992 Documenta in Kassel, at the 45th International Art Exhibition – La Biennale di Venezia in 1993, the Sonsbeek, Biennale in Holland, the 2006 Biennale in Havana, Cuba and more recently, at Vienna Biennale in 2015, Art Encounters Biennial in 2016, at the Kathmandu Triennale in 2017, at Socle Du Monde Biennale at HEART- Herning Museum of Contemporary Art, Denmark, Mediations Biennale, Poznan, Poland in 2018. Previous solo exhibitions include Israel Museum in Jerusalem, S.M.A.K. Museum in Ghent, M HKA in Antwerp, Lehmbruck Museum in Germany, Saitama Museum in Japan. Belu-Simion Făinaru has been teaching in the Department of Architecture at the Wizo Academy, Haifa, Israel since 1984. In 2008 he initiated the Mediterranean Biennale - since 2010 Belu-Simion Făinaru has been the artistic director and curator of the Mediterranean Biennale of Contemporary Art, Israel and in 2015 he founded AMOCA, The Museum of Contemporary Art, Sakhnin, Israel.

Dan Mihălțianu exercises an artistic discourse that includes historical, political, social and trans-cultural aspects, using a variety of media and representation forms, from photography, film, video, sound, to installation, object, drawing, graphics and text.

Dan Mihălțianu was born in Bucharest, Romania in 1954. He is currently living in Bucharest, Berlin and Bergen. He is the co-founder of the artistic group subREAL. He has been teaching at Bergen National Academy of the Arts, 2001-2007, Université du Québec à Montréal, 2008–2009 and Oslo National Academy of the Arts, 2018-2019. He exhibited in numerous international contexts and manifestations, such as the International Drawing Competition "Joan Miró" Barcelona, 1980, 1985; Impact Art Festival, Kyoto, 1986, 1997, 1988; European Print Triennial, Grado, 1987; Istanbul Biennial, 1992; the 45th International Art Exhibition – La Biennale di Venezia in 1993 and the 48th International Art Exhibition – La Biennale di Venezia in 1999; Künstlerhaus Bethanien, Berlin, 1994; Art in Geeral, New York, 1996; ZKM / Museum for Contemporary Arts, Karlsruhe, 1999, 2001; Bergen Kunsthall, 2005; National Museum of Contemporary Art, Bucharest, 2005, 2012; Renaissance Society, Chicago, 2005; The Kitchen, New York, 2006; NGBK, Berlin, 2007; Haus der Kulturen der Welt, Berlin, 2010; Tallinn Print Triennial, 2014; Vienna Biennale, 2015; Vargas Museum, Manila, 2016; National Portrait Gallery, London, 2018; Grand Palais, Paris 2019.

Miklós Onucsán works in a rigorous (post-)conceptual vein, combining a broad spectrum of media, such as installation, text, object, photography, video and process art, interventions, actions, found objects and situations. His works aim for an apparent exhaustive systematization of the world's phenomenal reality into ideas and structures of thought uncovering processes and possibilities that usually remain unobserved or unexplored. But, paradoxically, they materialize in concrete forms that are lacking in emphasis, often employing modest materials and a self-assumed stance of the artist-as-observer.

Miklós Onucsán was born in Gherla, România, in 1952 and he is currently living and working in Oradea, România. He had solo shows at Galeria Plan B Berlin, Contemporary Art Space MAGMA Sfântu Gheorghe, Nicodim Gallery, Los Angeles, and his participations in group shows include: Ex-East. Past and recent stories of the Romanian avant-garde, Espace Niemeyer, Paris, 2019; Double Heads Matches. The Formula of the Present, Uj Budapest Galeria, 2018; Track Changes, Mendes Wood, Sao Paolo, 2016; Public Space Art Festival Expanded Space, Bucharest, 2016; Art has no Alternative, Tranzit, Bratislava 2015; A Breathcrystal, Project Arts Center, Dublin, 2015; Allegory of the Cave Painting, Extra City Kunsthal, Antwerp, 2014, Image to be projected until it vanishes, Museion, Bolzano, IT (2011); Romanian Cultural Resolution, Spinnerei, Leipzig, DE (2010); STARTER, at Arter Istanbul, TR (2010). His works were also presented at the Art Encounters Biennale, Timișoara, 2017, Dallas Biennial, 2014, Intense Proximity - La Triennale 2012, Palais de Tokyo, Paris, 2012, Romanian Cultural Resolution – Documentary, The New Gallery of IRCCU, 54th International Art Exhibition of La Biennale di Venezia, 2011 and the 48th International Art Exhibition of La Biennale di Venezia, 1999.

Cristian Nae is an art critic, curator and theorist based in Iași, Romania. He is also a teacher at the History and Theory of Art Department within the George Enescu National University of Arts, Iași, Romania. He was the recipient of research grants funded by Erste Foundation, Vienna; CNCS-UEFISCDI; Getty Foundation, Los Angeles, and New Europe College, Bucharest. He participated in the international CAA-Getty programme in 2012 and 2017 and he was a visiting researcher at Sterling and Francine Clark Art Institute, Williamstown, USA in 2017. His writings, focused mostly on contemporary art and exhibition histories in Central and Eastern Europe, were featured in publications edited by Routledge, Hatje Cantz, Kettler Verlag, MNAC and Verlag fűr Moderne Kunst, Peter Lang Verlag and Wiley-Blackwell (forthcoming), among others. He is also the editor of a collective volume on the history of experimental exhibitions in Romania between 1965 and 1989, which will appear in 2019 at IDEA publishing house in Cluj.

Romania's participation at the 58th International Art Exhibition – La Biennale di Venezia is organised by the Romanian Ministry of Culture and National Identity, the Romanian Ministry of Foreign Affairs, and the Romanian Cultural Institute. Unfinished Conversations on the Weight of Absence is produced by Plan B Foundation and Gallery, with partners: George Enescu National University of Arts Iași, National University of Arts Bucharest, University of Art and Design Cluj, New Europe College, Cluj Cultural Centre, Art Encounters Foundation, The Paintbrush Factory, All'Origine, Nicodim Gallery in Los Angeles and Bucharest, Department of Computer Science, Donald Bren School of Information and Computer Science, University of California, Irvine (Computer science specialists: Professors Alex Nicolau and Alexander Veidenbaum), AMOCA, The Museum of Contemporary Art Sakhnin, The Mediterranean Biennale Sakhnin, Domeniile Sâmburești, Aqua Carpatica.

SCARICA IL COMUNICATO IN PDF