Attenzione: alcuni musei, gallerie e luoghi espositivi potrebbero essere temporaneamente chiusi al pubblico.
Truth Unveiled by Time
Flaminio, Parioli, Villa Borghese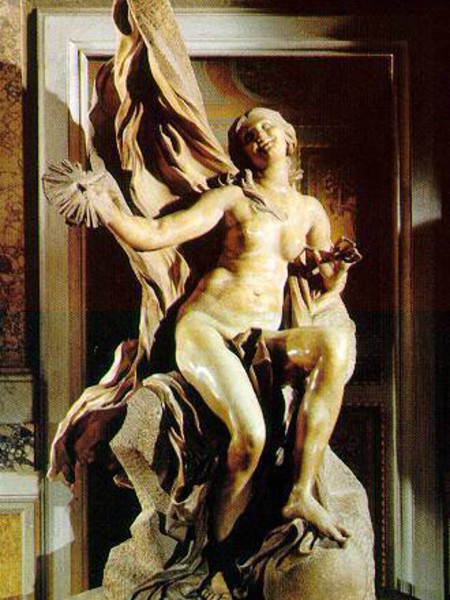 Bernini designed a work that was to be a monument to his sculptural art, Truth Unveiled by Time. The figure of Time that was intended for the upper part of the composition was never be executed. This work was undertaken when Bernini was going through a difficult period at the papal court, because he was strongly accused by his adversaries of causing structural problems at St Peter's. Bernini began preliminary work on Truth around 1645, at a critical time, after the death of Pope Urban VIII. By 1652, the figure was almost complete, but in 1665 Bernini again expressed his intention to add the figure of Time to the group. In his will Bernini bequeathed Truth, as an eternal warning, to his eldest son. The work remained in the Bernini home until 1924, when it was transferred to the Borghese Gallery and placed in Room VIII on a plinth slanting backwards (a stucco wedge had been added to the 19th century base). Recent restoration work has restored the base to its horizontal position, which gives Truth its original more erect pose. The powerful figure of truth, which is reminiscent of Michelangelo's deliberate contrast between smooth and unfinished parts and of the elegant physical tension of Rubens' female figures, can be considered the quintessence of Baroque sculpture. It is certainly Gian Lorenzo Bernini's most personal statue.