Sam Lock. Carta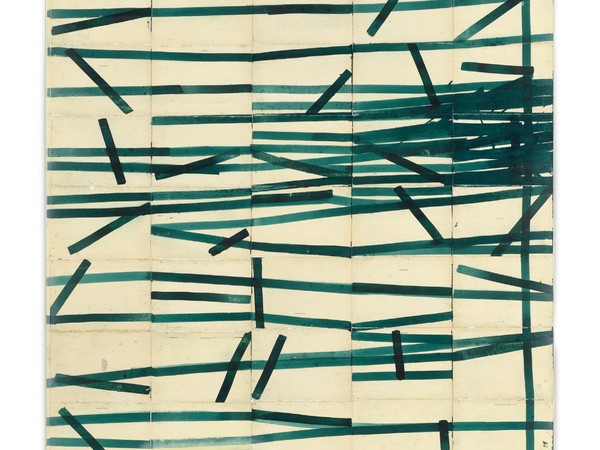 Dal 02 Marzo 2023 al 31 Marzo 2023
Luogo: Cadogan Gallery
Indirizzo: Via Bramante 5
Telefono per informazioni: +39 02 8 969 0152
E-Mail info: info@cadogancontemporary.com
Sito ufficiale: http://cadogangallery.com
At the heart of Sam Lock's new exhibition Carta is paper. Salvaged from a damaged collection of discarded artbooks, this series of works combines old pages pasted onto canvas, with interventions and marks made by the artist. The works continue Lock's explorations into ideas of presence and absence, history and memory, time and repetition following his solo exhibition in London in October 2022. This exhibition, opening on the 2nd March, will also mark the launch of Cadogan's new gallery space in Milan.

The pages on canvas create a grid like pattern, a linear suggestiveness to the canvas space that we, the viewer, try and read. There is a partial uniformity of mark here, but at the same time each one is different. The apparent deliberateness is an illusion, each one created entirely intuitively. The marks are signposts, leading in and out of the painting - roads to nowhere, repetitions and isolations.

'I prefer the tone of uncertainty - it's like an underlying principle for me... I never have an idea of how a work will end, only how it starts… Ambiguity can act as an invitation to fill the gaps, to author meanings or to steer the interpretation of a painting.'

The surface of the works is both solid and broken. The surface is lacquered and sealed, but tension is introduced by the ripped edges of the paper sheets, defining the grid and its meeting points. These dualities and uncertainties direct the voice of the works. The paper itself is 'discoloured with yesterdays', Lock's mark making creating an overlapping of past and present.

Each painting gets its title from traces of text still existing as minute details on the paper itself, referring to images and illustrations that have since faded. The marks made are prompts to the inherent voice of the paper itself, incorporating this language of memory into the artwork. The artwork and the artist are connected in this way to the past painters and paintings in art history referenced by the pages but also to the artist's previous works through this theme.


SCARICA IL COMUNICATO IN PDF