Attenzione: alcuni musei, gallerie e luoghi espositivi potrebbero essere temporaneamente chiusi al pubblico.
Former Lido Casino
Lido of Venice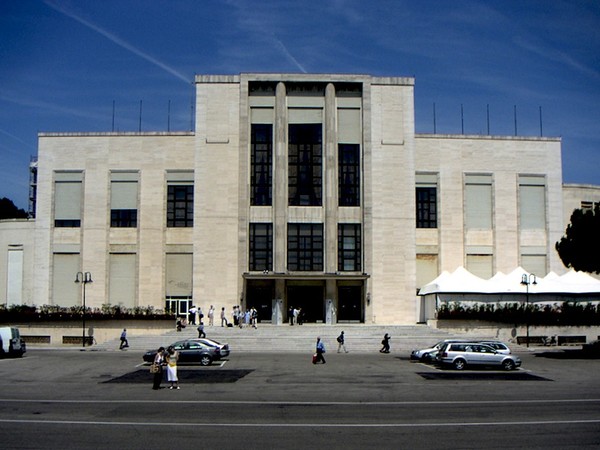 Location: Former Lido Casino
Address:

Piazzale Casinò, Lungomare Guglielmo Marconi 4

Opening:

Closed to the public.

Transportation: Lines 5.1, 5.2, 20 (stop Lido S.M.E., dock A)
Lines 5.1, 5.2, 6 (stop Lido S.M.E., dock B)
Lines 14, N (stop Lido S.M.E., dock C)
Lines 1, 10, N (stop Lido S.M.E., dock D)
Lines 10 (stop Lido S.M.E., dock E)
Bus line V (stop L. Marconi "Lion's Bar")
The Lido Casino was built in 1938 in the Quattro Fontane district, on the area where the old fort which was partly demolished and partly incorporated stood. In addition to Palazzo del Cinema, opened one year earlier, the initial design by engineer Eugenio Miozzi also provided for one indoor swimming pool, which however was never completed.
The monumental gambling house in rationalist style was equipped with innovative cooling and heating systems, and was connected to Palazzo del Cinema and Hotel Excelsior by an underground path.
The interior was decorated with marbles and glazing made by famous local glass makers, and its areas were arranged to allow the staff to pass through.
It was used as the summer location of the Venice Casino until the 1990s, then it closed down when the new Ca' Noghera casino was opened in the mainland.