CONTINUA XXL ONLINE - Leandro Erlich: The Magician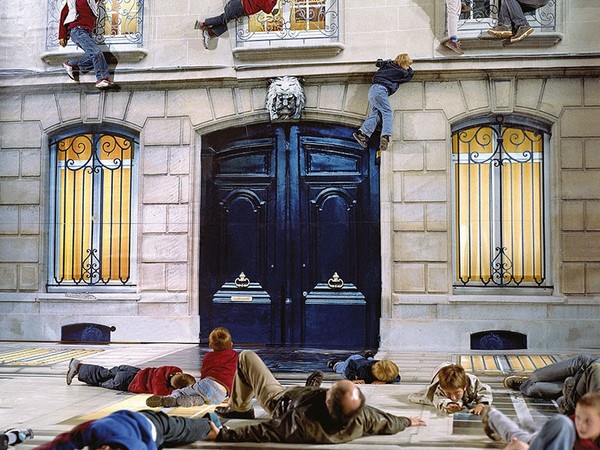 Dal 23 Novembre 2020 al 31 Dicembre 2020
Luogo: Sito web Galleria Continua
Indirizzo: online
E-Mail info: roma@galleriacontinua.com
Sito ufficiale: http://www.galleriacontinua.com/viewing-room-gallery-xxl?id=72b32a1f754ba1c09b3695e0cb6cde7f
Continua XXL Online
is an exclusive presentation of some of our artists' biggest projects. Featuring previously unseen content from Galleria Continua and artists as well as in depth information and insight into production, Continua XXL Online is a comprehensive experience in understanding large installations and artworks.
For this edition, we present
Leandro Erlich: The Magician
.
Working with
Leandro Erlich
means working with an all-round artist. Maybe he's a magician, maybe he's an artist or even an actor. If one had to find just one word as to what it means to work with him it would be "trompe-œil", this reflects not only his artistic practise but him as a person. He pays enormous attention to the concept of entertainment, it's an entertainment with which to surprise oneself with the reality that surrounds us. He's an artist that works with the utmost care for the aesthetic aspect of his work. Like a true magician, he knows that his tricks only work if nothing is neglected, if the attention to detail becomes the daily practise of his work. Erlich's exhibitions and projects are almost festivals of scenography. His works cannot do away with the interaction of the spectator with the given space that is duly studied and chosen in order to "do the trick". Erlich has conserved the unlimited curiosity and fantasy of a child but he has also knowingly added to this with a great intelligence and ability to understand adult man, contemporary man and his dreams. We just need to think of the clouds, the works that recreate that mental game we play when we look to the sky, trying to create meaning out of the shapes floating above us. He also makes us consider our fears and vices. For example, the works that contain doors or windows, through which one can spy through or gaze through to "the other side". Playful but never banal, Erlich tries to look for points of view and suggestions that are never predictable. At the same time, the images and motifs are recognisable and typical of our everyday lives. These works at times become giant, of great visual impact, in order to divert attention to important themes. These themes are often to do with the environment, like the house that melts "Maison Fond", or "Pulled by the Roots" - the unrooting of a house, held up by a crane. All of these are themes that, thanks to these works that focus so fully on their scenography, deliver their message clearly without the need for an explanation.
It's difficult to define Leandro Erlich. With a background in architecture, we could call him an architect. The word magician also comes to mind, a scenographer, an actor, himself a character. All of these skills and figures reflect his extensive and magnificent study and research as well as the collaborations that come with it, including professionals that range from industrial designers to architects. All of this is in order to obtain a 360-degree approach to the care and attention in his works, before exhibiting them.
Leandro Erlich
, born in 1973, lives and works in Buenos Aires and Montevideo. Over the past two decades, his work has been shown internationally and was subject to major solo exhibitions: KAMU, Kanazawa, Japan (2020), Voorlinden Museum, Wassenaar, Netherlands (2020), Oratorio San Felipe, Bologna, Italy (2019), MALBA, Buenos Aires, Argentina (2019, 2015), CAFA Museum, Beijing, China (2019), Le Bon Marché, Paris, France (2018), HOW Art Museum, Shanghai, China (2018), Neuberger Museum of Art, New York, USA (2017); Fundación Telefónica, Madrid, España (2017);
Mori Art Museum, Tokyo, Japan
(2017), Museo Espacio Chandon arteBA 2016 (2016), MUNTREF, Buenos Aires, Argentina (2016), ZKM, Germany (2015), 21st Century Museum of Contemporary Art, Kanazawa, Japan (2014), MMCA, Seoul, Korea (2014), Barbican Center, London (2013), P.S.1 MoMA, NY (2008), MACRO Museum of Contemporary Art of Rome, Rome, Italy (2006), Centre D'art Saint Nazaire, France (2005), Santa Monica Art Center, Barcelona, Spain (2003), El Museo del Barrio, New York (2001), among others. Leandro Erlich was featured in collective exhibitions, such as the Setouchi Triennale, Megijima Community Area, Japan (2019), Abu Dhabi Art Commissions, Al Ain Oasis, UAE (2019), Power Station of Art, Shanghai, China (2018), The Israel Museum, Jerusalem, Israel (2017), JUT Art Museum, Taipei City, Taiwan (2017), Bienal Sur, Buenos Aires, Argentina (2017), Spiral Garden, Tokyo, Japan, (2017), XIII Bienal de Cuenca (2016), OCA, Brazil (2015), Maison Rouge, Paris, France (2015), Montevideo 2nd Biennial, Urugay (2014), Shanghai Art Festival, Shanghai, China (2013), MOT, Tokyo, Japan (2013), Fundación PROA, Buenos Aires, Argentina (2013, 2009), Centre Georges Pompidou, Paris, France (2011), Centquatre, Paris, France (2011), Liverpool Biennial, Liverpool, UK (2008), Singapore Biennial, Singapore (2008), Museo Nacional Centro de Arte Reina Sofía, Spain (2008), Echigo-Tsumari Art Triennial, Japan (2006), Palais de Tokyo, Paris, France (2006), 51st Venice Biennale, Venice, Italy (2005), Nuit Blanche de Paris, France (2004), 26th Sao Paulo Biennale, Argentina (2004), Busan Biennale, Korea (2002), Shanghai Biennale (2002), Istanbul Biennale, Turkey (2001), Mercosur Biennale, Brazil (1997), Havana Biennale, Cuba (2000), among others.
His works are part of private and public collections, including the Museum of Modern Art, Buenos Aires; The Museum of Fine Arts, Houston; Tate Modern, London; Musée National d'Art Moderne, Centre Georges Pompidou, Paris; 21st Century Museum of Art Kanazawa, Japan; MACRO, Rome; The Jerusalem Museum; FNAC, France.
SCARICA IL COMUNICATO IN PDF